Madison Schools' Measures of Academic Progress (MAP) Assessment Results Released
Interim Madison Superintendent Jane Belmore (175K PDF):
The Measures of Academic Progress (MAP) is a computer adaptive series of assessments from the North West Evaluation Association (NWEA). There are tests in reading, language usage and math.

When taking a MAP test, the difficulty of each question is based on how well a student answers all the previous questions. As the student answers correctly, questions become more difficult. If the student answers incorrectly, the questions become easier. In an optimal test, a student answers approximately half the items correctly and half incorrectly. The final score is an estimate of the student's achievement level. Each test takes approximately 50 minutes to complete.

MMSD has chosen to administer MAP for the following reasons:

It helps ensure technical infrastructure to support implementation of Smarter Balanced Assessment.
Rapid turn-around of classroom, school and district level data.
Nationally normed results give a more accurate picture of MMSD's standing.
MAP measures student achievement growth in content area and within strands in a content area.
Beginning 2012-13, MAP will be aligned with the Common Core State Standards
MAP is not high stakes. It is not reported to the state for accountability purposes, but rather for district and school improvement.

In 2011-12, MAP was administered for Grades 3 through 7. In 2012-13, it will be expanded to include Grade 8. The default is to provide the test to all students, but MMSD has the ability to use judgment for students with disabilities. So, not all special education students will take MAP. Also, MAP is not for ELL levels 1 or 2.
I'm glad the Madison Schools published this information, and that they are implementing a much more rigorous assessment than the
oft-criticized WKCE
. I look forward to seeing the District's report on the
EXPLORE assessment, as well
.
Nearby Monona Grove has used the MAP assessment for a number of years. It would be interesting to see how the Districts compare.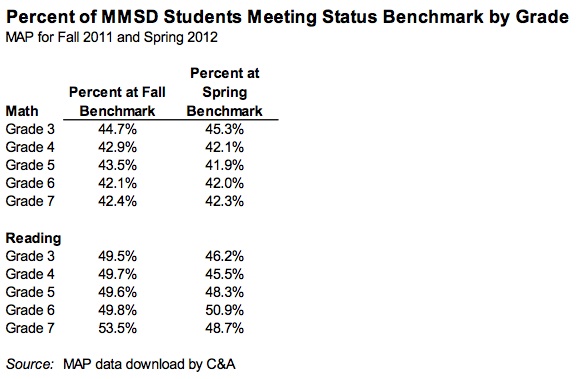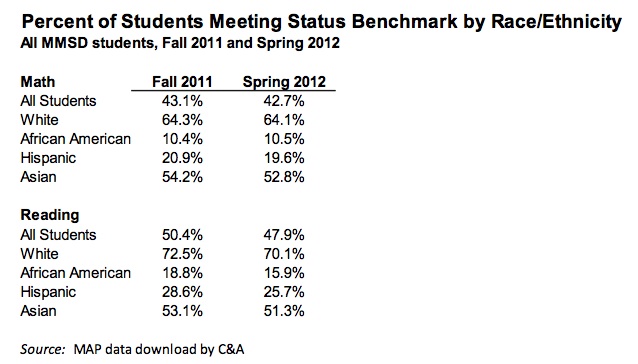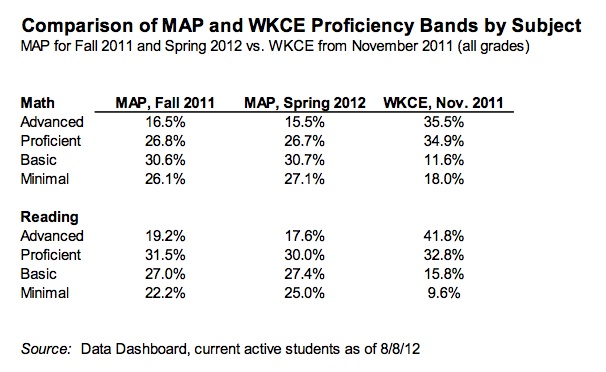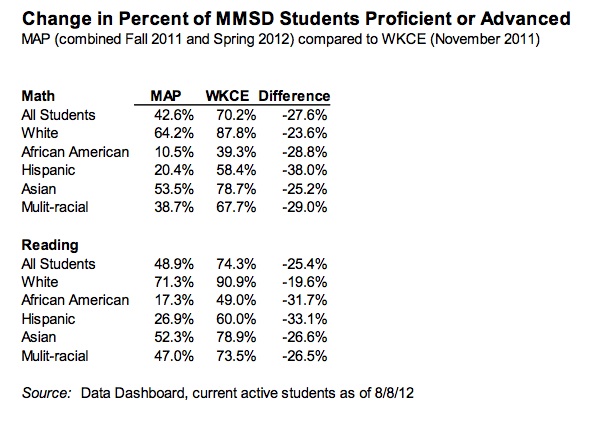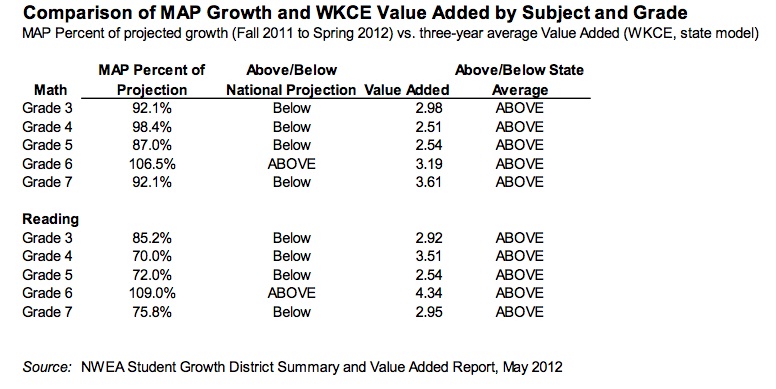 Matthew DeFour and TJ Mertz comment.
Posted by Jim Zellmer at August 10, 2012 12:55 PM
Subscribe to this site via RSS/Atom:

Newsletter signup | Send us your ideas